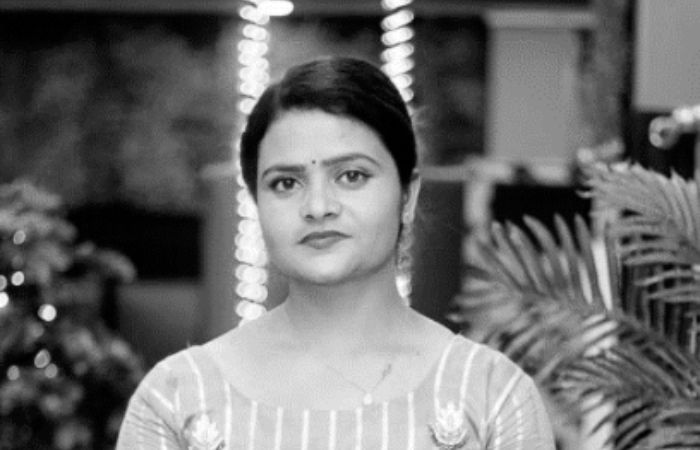 Boosted my determination to work
Namaste I'm Pratibha Bhandari from Tulsipur-7, Ganeshpur. We are a family of three- my husband, daughter and myself. I used to work with sahakari sanstha as a marketer for around two years. After having my child, I was a stay at home mother and could not support my family financially. During that time, I only wanted to focus on my child. As my child began to attend school, I opted to work and got to know about this initiative from the ward office. 
During data gathering phase, I used to send my daughter to school and then collect the household's data. I was assigned for ward 7, but also assisted to collect data from ward 5 as well. I gathered information from roughly 520 households, totaling around 17000 rupees. My spouse had applied for a working visa in Saudi Arabia multiple times. He even reached Saudi Arabia but had to return soon after, dissatisfied with the employment. As a result, we have accumulated a substantial amount of loan. I was able to support my family and pay off a portion of our debt thanks to this program. I'm searching for work again, so please let me know if there are any openings. I'd be grateful.
This project has definitely helped us financially, but its advantage does not halt in just that aspect. This project made me realize about the waste scenario in our Tulsipur area and hearing all the complaints and feedbacks from the localities that I visited, I realized the waste management in Tulsipur should be improved drastically and the collection service companies should increase their range and area of pickup, such that all the households can utilize the service and not have to burn or haphazardly dump their wastes. Also, this project has helped me in my personal growth as well, for example in building my confidence to communicate effectively, enhancing my ability to use mobile phone and its various functions, and also the importance of time & resource management. I truly would like to thank Clean up Nepal and TAF for providing me an opportunity to work as an enumerator.
In case of our waste management, we make manure for degradable waste, but we normally burn our yard waste (e.g. dry leaves) since the waste collection service vehicle does not reach our area. From the orientation training, we got to know that waste burning will release harmful gases to the atmosphere. Even when knowing the consequences, we are left with no option other than to burn or haphazardly dump the waste. We would love to change this scenario, but for that, the sub-metropolitan should comply with our demands, and increase the area for collection service such that our area is included as well.