CLEAN UP NEPAL, established in 2014, is a non-governmental organization (NGO) with a mission to clean spaces, clean air, clean water, and knowledgeable communities that thrive with responsible lifestyles and good health. The organization's focus is to ensure that communities have access to effective solid waste management and water, sanitation, and hygiene systems, along with the necessary knowledge and resources for maintaining a healthy and disease-free lifestyle. CLEAN UP NEPAL strives to create an inclusive and supportive environment by fostering connections, providing education, and empowering local communities and other stakeholders through a solution-oriented people center approach.
CLEAN UP NEPAL works through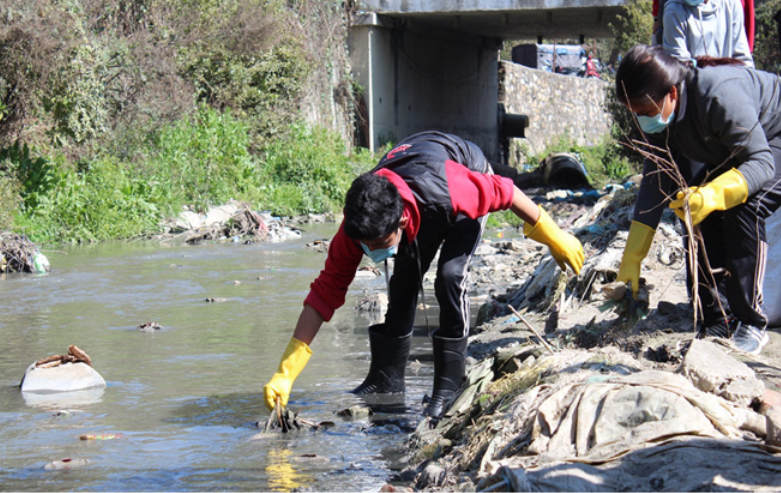 CLEAN UP NEPAL is dedicated to enhancing public health and environmental conditions by implementing comprehensive enhancements to current waste management systems and facilitating the establishment of new systems in areas where none are currently present. Recognizing the complex obstacles within Nepal's waste sector and the limited research available on waste management operations and functions, CLEAN UP NEPAL adopts a thorough approach to gaining a comprehensive and precise understanding of the existing systems before designing programs and implementing community-based solutions. Our efforts are primarily focused on collaborating with schools, communities, and local governments to achieve mutually beneficial solutions in a coordinated and synergistic manner.
CLEAN UP NEPAL focuses on promoting effective waste management through the implementation of 5R principles: (reduce, reuse, rethink, repurpose, recycle. The organization actively contributes to policy formulation at the local, provincial, and federal government. Additionally, it establishes a robust coordination mechanism involving government entities, private sector stakeholders, and the public to address waste management challenges. A key aspect of our work involves strengthening the circular economy chain, which encompasses activities such as waste segregation, efficient waste collection, organic composting, and innovative processes like circular economy, and plastic recycling to produce valuable materials. CLEAN UP NEPAL has launched two major initiatives, namely "Zero Waste at Schools," which aims to gradually minimize waste generation and disposal in schools, ultimately striving for zero waste in the long term. The organization has also introduced Safa Nepal, a digital waste management and data collection system. This comprehensive platform comprises a web-based dashboard and mobile application, enabling cities and municipalities to analyze waste-related data, provide information on waste collection and management, and empower citizens to report instances of waste dumping, burning, and irregular waste collection services.