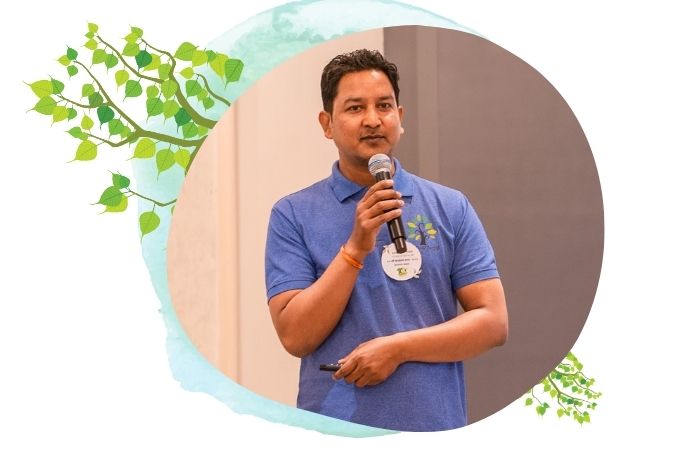 Education
- Double master's degree (Sociology and Political Science). - Research scholar of Mphil-Ph.D in Sociology
Experienced

Sector
Waste Management, WASH, land rights, reconstruction, health, education, human rights, caste discrimination, child rights, conflict transformation, peace-building, empowerment, and evidence-based advocacy.
Year

of

Experience
Above 16 years
About

Me
I possess over 16 years of extensive experience in the field of social development, having worked in both national and international organizations. For five years, I was involved in the WASH Project within an international organization, where I contributed to emergency recovery and campaigns. Additionally, I dedicated over 11 years to working with multiple non-governmental organizations, taking on diverse responsibilities.
One of my notable accomplishments was closely collaborating with the National Reconstruction Authority (NRA) in Nepal after a devastating earthquake. I played a pivotal role in ensuring the Durable Solution for displaced households and earthquake-affected landless individuals. This achievement involved significant contributions to policy issues, policymaking, and implementation.
Furthermore, as an individual consultant, I have developed comprehensive Water, Sanitation, and Hygiene (WASH) Plans for over ten municipalities and rural municipalities. In Tulsipur Sub-Metropolitan City, Dang, I drafted Waste Management Policy, revised the Waste Management Act of Birgunj Metropolitan City, and drafted the Waste Management Act of Harion Municipality of Sarlahi district. I am proficient in formulating and implementing policies, guidelines, procedures, and strategies to facilitate organizational development in accordance with the prevailing context. I possess strong knowledge and expertise in proposal writing and fundraising for organizations.
Throughout my career, I have successfully managed budgets exceeding 400 million Nepalese rupees within a single year. I have also demonstrated proficiency in project cycle management, database management, planning, reporting, financial budget forecasting, expenditure tracking, and team management. Moreover, I have utilized my expertise to enhance the capacity of program staff through motivation, appreciation, and knowledge-sharing, fostering a goal-oriented and results-driven approach.
My skills encompass innovation, analytical thinking, advocacy, campaigning, strong relationship building, and a rights-based, need-based approach. With these abilities, I am committed to