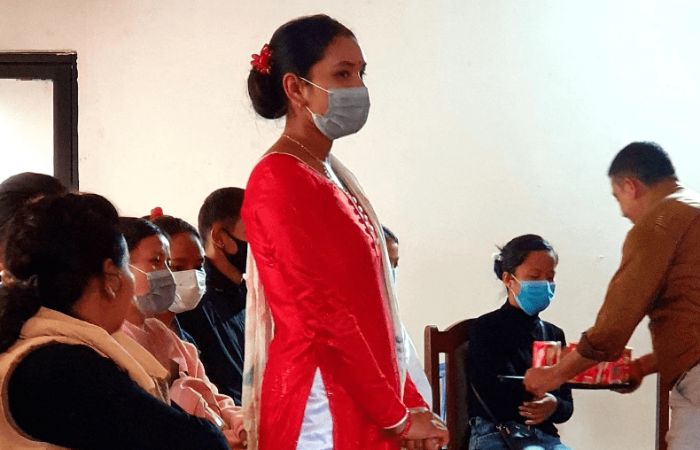 Pratikshya's increased knowledge and economic contribution to her family
She is Pratikshya Nepali Pariyar, a resident of Waling Municipality ward no. 2 of Tildada. She has 5 family members and is married for 7 years now. She has a daughter who is 4 years old. Her husband works as a tailor in Waling. She has studied till the Intermediate level and could not further study because her daughter was born and she had to take care of her. She mostly stays home and contributes to household work and animal husbandry however, when she is free she goes to her husband's shop and takes tailoring training.  
Pratikshya is a homemaker and she loves every opportunity to socialize and meet new people. So, she is happy to have taken the one-day training on Nepal Waste Map Application by Clean up Nepal. There, she got the opportunity to grasp additional knowledge about waste management and her area. After the training she was provided the opportunity to sensitize various households about different waste management practices. Further, she met with new people and is now looking forward  to contributing more in the future by participating in similar programs.
The major challenge for Pratikshya was that she mostly had to stay home for household chores and take care of the family. Due to this, she was unable to expand her knowledge and get involved in the activities of the society, despite her constant desire to learn, work and be independent. Thus, Clean up Nepal came as an opportunity for Pratikshya which also  became her first involvement in income-generating activities.  
Through the one-day training, she learned about ward 1 and 2 areas and individuals and built rapport with them. She feels she learned to work and socialize in a group even more. And now, she wants to work further in such projects implemented by Clean up Nepal, funding by The Asia Foundation and wants it to contribute to her income as well.   
Furthermore, she was even more motivated as she was encouraged by the elder members and other individuals for her work during the survey. They were very optimistic about the project especially as it highlighted waste management practices. 
Post her engagement in the training with Clean up Nepal Mrs. Pariyar experienced a boosted confidence, which made her believe that she can make a difference in her community and family's financial situation.  Pratikshya wants to personally thank Clean up Nepal and the partners for bringing in such a project which helped her socialize and learn about waste management. She is also delighted that technology is a divine part of the project as she enjoys its use.