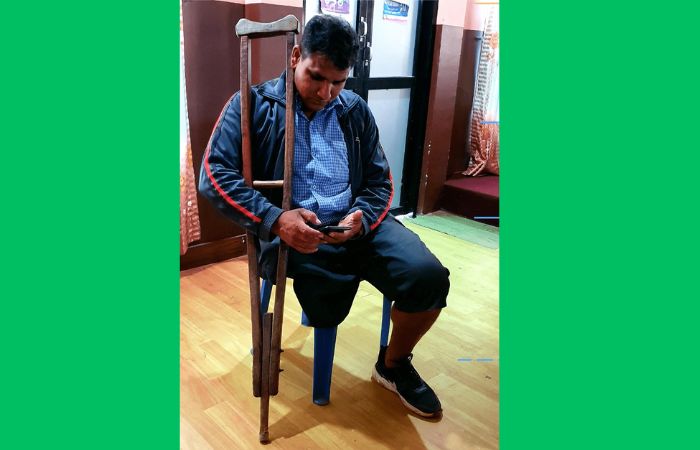 Del Bahadur's emerging passion to explore the field of social development
Del Bahadur BK, a resident of Waling Municipality ward no. 4 of Bhusun Dada. He is 42 years old, married and has 3 sons who are 22 years old, 18 and 12 years old. They are all studying. Furthermore, he is specially-abled because of a car accident which he met in 2041 BS. In the past, he taught in a primary school for 17 years. However, he had to quit the job because of his physical disability. He quit on his own terms. 
Since then, he is involved in agriculture, animal husbandry and likes to be involved in social work. He has participated and kept himself busy in development projects, which highlight education, forests, roads and drinking water. He has a disability card, which provides a 50% discount when traveling but later due to the COVID-19 pandemic, he has not been able to get any other services.
Del Bahadur comes from a backward community (Dalit) and is specially-abled (due to a loss of leg). He had to quit his job because of his disability and is only involved socially in the communities' activities. Despite these issues, Mr. BK appeared to be enthusiastic about the initiative. He was delighted to be chosen as an enumerator and is delighted to be able to learn new things and contribute to the community in which he lives.  
The training and survey included a specially-abled person such as Del Bahadur. It allowed him the opportunity to develop knowledge on waste management while surveying and collecting data. Furthermore, the program involved Del in an income generating activity, which is believed to have supported him and his family. Mr. Del Bahadur has been considered as a vulnerable person in society since he is differently-able and belongs to the dalit community. He felt misunderstood in the neighborhood, but the training and survey provided him with the opportunity to learn about waste management while surveying and collecting data. He was grateful as he grew in confidence and as his personality developed. 
Del Bahadur is a very social individual. He was very much involved in the data collection and active while sharing the stories that came out during the program. He is encouraged by such programs and likes the fact that the program is being implemented closely with the Waling municipality. Further, he also  looks to be involved in the future for both social and economic purposes. Del is delighted to be a part of the program.
Del wants to further thank Waling Municipality, Clean up Nepal and The Asia Foundation for implementing such a project in Waling and providing him (specially-abled individual and backward communities) with an opportunity to generate income through the training.