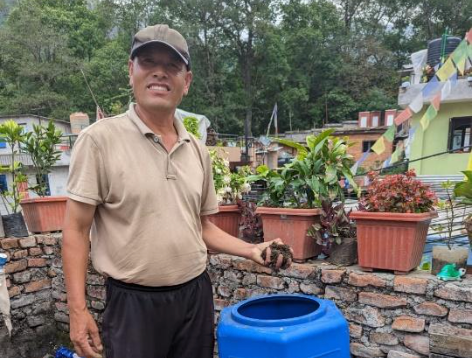 Cultivating a Sustainable Future: A Gardener's Journey to Success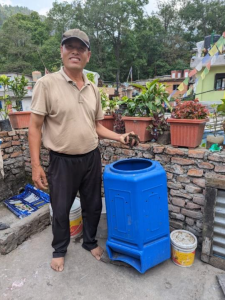 My name is Man Singh Tamang, and I am a 54-year-old resident of Nahar area. I have been living here with my family for over four decades, although I originally hail from the Sindhupalchowk district. Currently, my family consists of seven members, including my wife, two daughters, one son, daughter-in-law, and their two children. As the sole breadwinner of my family, I bear the responsibility of providing for them. While my son occasionally takes up labor work, it is not consistent.
In the past, I had the opportunity to work at the View Bhrikuti Hotel for six years, mainly involved in gardening and other tasks. After that, I joined a nursery in Kathmandu, which was owned by my relatives. It was during my time working at both the hotel and the nursery that I discovered my passion for gardening. In 2017, I was selected from Sindhupalchowk district to attend a two-week training program organized by the Ministry of Agriculture. This program brought together representatives from all 75 districts of Nepal and further nurtured my gardening skills while equipping me with valuable knowledge. Previously, I used to buy compost from stores, but now I have learned to make my own.
At my residence, I have a small nursery where I utilize compost to grow various plants. I also sell these plants from my home.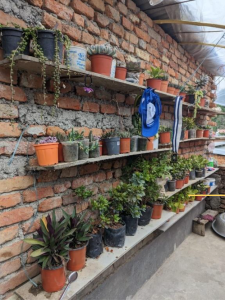 Additionally, I have been approached by hotels and private property owners to assist them with garden design and plant care, which has become an additional source of income for me.
Thanks to a training program (Capacity Building on Waste Management) conducted by Urban Resilience Project under Clean Up Nepal and People in Need, I received a compost bin that has been instrumental in my composting efforts. Currently, I don't have any plans to sell the compost, as I will be using it for my own plants. However, if there is a demand, I can potentially earn around NRs. 30-40 per kilogram by selling compost. I am grateful to Clean Up Nepal for providing me with three days of training, where I also gained knowledge about recycling and upcycling plastic waste. Such training programs are crucial in fostering positive behavioral changes. In fact, people in my community have started composting their waste because of these initiatives. I also offer guidance to my neighbors who use composting bins and assist them with any issues they face.
Through my work in this field, I am earning enough to support my family. I hope that my journey will inspire others facing similar circumstances to consider pursuing a career in gardening rather than remaining idle.